Montage History
"Dianne has a great technique and her staff is professional, sweet and personable. They care and really make you feel relaxed. I've been to many other spas, but Montage is very special."

~Pam C.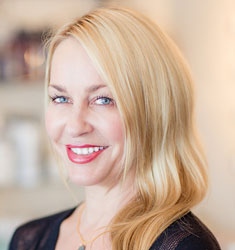 Montage has the feel of a local favorite, a real neighborhood place with plenty of longstanding fans. Moms and daughters come here…Husbands and grandmas too. Many of them have followed owner Dianne de la Garrique from her beginnings over 20 years ago, when she was an aerobic instructor and private trainer at the well-known Manhattan Club for Women. Born and raised in Manhattan Beach, Dianne was always interested in helping women look and feel better. After attending Cosmetology School, she started Montage inside the club, offering make-up and facials. Dianne moved Montage to its present location in 1996 and recently completed a major remodel and "face lift" on her well-loved boutique spa. She continues to be a constant student in the art of beauty and science of skincare, attending classes and keeping abreast of all new research and development in these areas to offer her valued clients, who trust her implicitly.
Dianne also has a discerning eye for gifts and fashion and has stocked the Montage Boutique with a selection of unique clothing, amazing accessories and choice gifts that make it feel like she's your personal shopper.