Make-up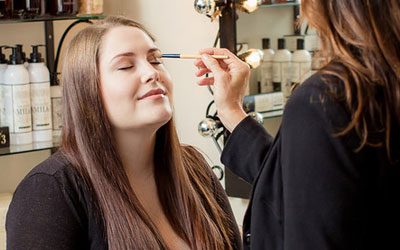 Jane Iredale Cosmetics
Enjoy a complimentary color match with Jane Iredale's pharmaceutical-grade mineral make-up. Look luminescent and natural with all the skincare benefits this advanced new line has to offer.
Iredale Mineral Cosmetics Ltd. is a mineral beauty brand founded in 1994 by Ms. Jane Iredale. She was the very first beauty product manufacturer to supply the entertainment industry with mineral-based cosmetics. Iredale was also the first to embrace the opportunity of providing physicians with makeup products that are beneficial to the skin. Over the years, she has worked with renowned dermatologists and plastic surgeons to improve her product line.
Before Ms. Iredale embarked on her career in the beauty industry, her background was in theatre, film and television as a casting director, production manager and producer. Her work experience in the limelight gave her an insight of how a clear complexion can make or break a person's career in front of the camera. She also learned that a variety of skin conditions can also affect a person's self-confidence. Ultimately, Ms. Iredale witnessed the struggles of actresses and models dealing with the undesirable effects of traditional or conventional makeup products to the skin.
When Ms. Iredale left the entertainment business, she reassessed her personal goals and asked herself what she can contribute to enrich the lives of these women. She views makeup as an important part of a woman's positive sense of mind and she is committed to help them achieve this the easiest way possible. She created her mineral makeup line with ease-of-use and multi-functionality in mind. Her mineral powders are considered as all-in-one product for they are foundation, concealer and sunscreen in one. The idea is to provide women with an innovative beauty experience that can be attained in the least amount of time. She postulates that makeup can do more than to make you look good – it also has the power to make you feel better.
The Jane Iredale Mineral Makeup Advantage
Conventional makeup can contain as much as 90% talc. They also contain emulsifiers that are comodogenic which clogs the pores and exacerbates acne because of follicular inflammation. Mineral makeup is healthy for the skin because its natural pigmentation prevents bacterial growth. It also has sun protection properties that provide defense against UVA and UVB rays.
Healthy – Mineral makeup is made from pharmaceutical grade minerals that won't clog the pores or settle in lines or creases. Mineral makeup is a better option than traditional makeup because it is non-comodogenic, paraben-free and is created with natural preservatives, making them healthy and gentle across all skin types.
Anti-Aging – Mineral makeup offers sheer to full coverage which helps in camouflaging signs of aging. The micronized minerals has the ability to reflect sunlight away from wrinkles, crow's feet and fine lines and mirror the appearance of the undamaged areas of the skin across imperfections making them less noticeable.
Sun Protection – The physical sunblock, titanium dioxide and zinc oxide, found in mineral makeup offer outstanding UV light absorbing qualities which prevent the skin from further developing wrinkles, hyperpigmentation and other forms of sun damage.
Natural – Dubbed as a skin-perfecting powder, mineral makeup is so natural looking that it looks like a second skin.
Long-Lasting – Mineral makeup has a pearlescent and fine powder texture that adheres to the natural oils of the skin making it last all day long until removed with a cleanser.